Management
The Management of Sangham vests in a Managing Committee consisting of 19 members elected by the General body. The term of the office of the managing committee is three years. The managing committee Comprises of .
President
four vice Presidents
A general secretary
A secretary
A Treasurer and
Eleven committee Members.
The following are the Managing Committee Members now in office, Elected on 3.07.2008 for a period of three years.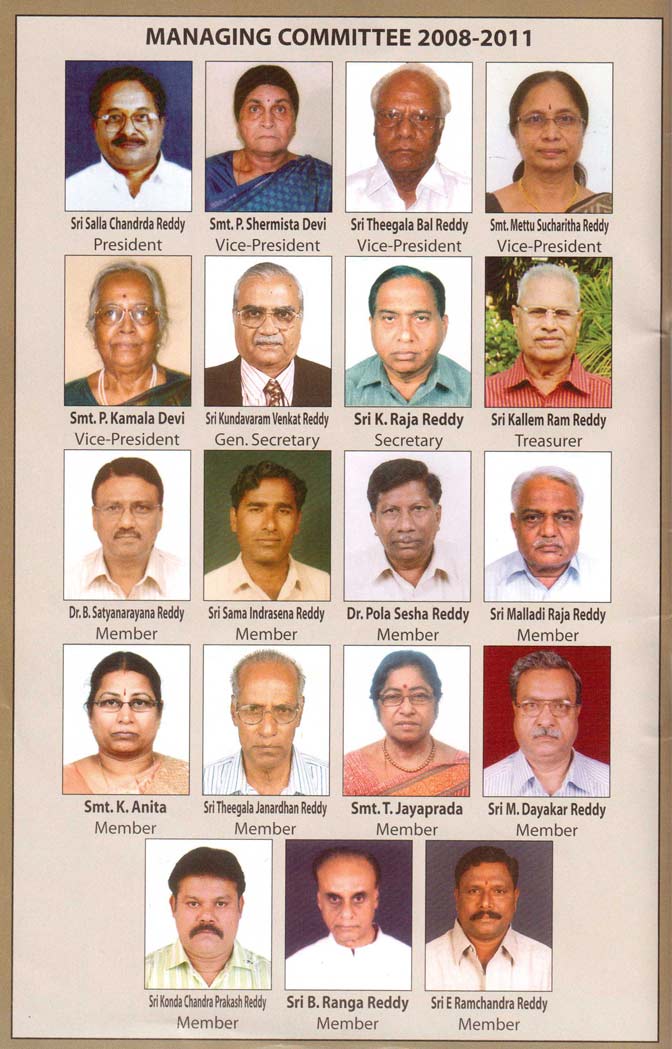 Sri Salla Chandra Reddy, President
Smt. P. Shermista Devi, Vice-President
Sri Theegala Bal Reddy, Vice-President
Mrs. M. Sucharitha Reddy, Vice-President
Smt. P. Kamala Devi, Vice-President
Sri K. Venkat Reddy, Gen. Secretary

Sri K. Raja Reddy, Secretary
Sri Kallem Ram Reddy, Treasurer
Dr. B. Satyanarayana Reddy, Member
Sri Sama Indrasena Reddy, Member
Dr. Pola Seshi Reddy, Member
Sri Malladi Raja Reddy, Member
Smt. K. Anita, Member
Sri Theegala Janardhan Reddy, Member
Smt. T. Jayaprada, Member
Sri M. Dayakar Reddy, Member
Sri Konda Chandra Prakash Reddy, Member
Sri. B. Ranga Reddy, Member
Sri E. Ramachandra Reddy, Member